Happy Veganuary, bakers! It's that time of year again, where hundreds of thousands of people from across the globe take the pledge to ditch animal products for all of January. It's a great way to ease yourself into a more environmentally friendly and ethical lifestyle, even if it doesn't end up being for you. Veganism is bigger than ever, and its benefits are undeniable. Have a look at these statistics from The Vegan Society if you want to see the numbers for yourself.
We're by no means trying to plant (sorry) any ideas in your head. However, we do think it's important to recognize that being vegan doesn't mean that your diet should suffer. A few years ago, you might have struggled to find vegan options readily available on the high street, but in the UK we've launched more vegan products than ANY other nation in the past few years, which shows just how much the landscape has transformed.
We're happy to say that a wide range of products from the Renshaw and Rainbow Dust ranges are vegan-friendly. For once, you can have your cake and eat it! Vegan baking can be hard to get your head around, so we thought we'd share some of our favourite vegan bakes from around the net that you might want to attempt – and we've even ranked them from easy to advanced so you can choose one that's right for you! Let's veg-in…
Before you start…
Often the margin for error in baking is pretty slim – so if you're new to vegan baking you may feel more comfortable sticking to recipes specifically for vegans (like those in this article) rather than trying to substitute ingredients into other recipes. Best to ease yourself into these things, you know.
If you're more experienced (or if you're a rebel), Healthline have this great article with a list of substitutes that you can use to adapt non-vegan recipes.
Easy
For those with no clue how you can make a good sponge cake without butter, milk or eggs, BBC Good Food has got you sorted with these Vegan Sponge Cake and Vegan Cupcake recipes. These are really basic, so they should be a good place for you to start if you're a complete novice.
They've got some vegan buttercream in there for added flair, and we think you could take it up a notch with a little colour; some Rainbow Dust Liquid Colour mixed in with the buttercream would really make these treats pop.
Intermediate
Too easy? We hear you. You want to start flexing those new vegan skills properly.
This Banoffee Pie from Waitrose will help you reach that next level. The ingredients and prep are a little more detailed here, but the combination of nuts, fruit and toffee creates a rich, decadent flavour that's worth the extra effort. If you've got a serious sweet tooth, we might suggest adding a layer of Extra Marshmallow Ready to Roll Icing between the base and toffee layers for a little treat. You deserve it.
If you're in the market for some nibbles then these Vegan raspberry chocolate tarts by Isabel Carlisle Storolis should take your fancy – and they're definitely fancy. There are a few different elements to assemble here which is why they're a little more tricky to nail. They've definitely got a classy look and feel, but we think you could also give them a light dusting of Rainbow Dust Edible Glitter for a shimmery, regal effect.
Advanced
You've arrived at the final hurdle. You've honed your skills and you're ready for a REAL challenge. We've got you covered.
This Coconut Almond Cake from Gretchen's Vegan Bakery incorporates homemade Raffaello truffles, coconut aquafaba buttercream and almond Dacquoise – and before you ask, no we're not sure what all of those words mean. But we do know that this cake's fluffy texture and artisanal aesthetic make a gorgeous treat!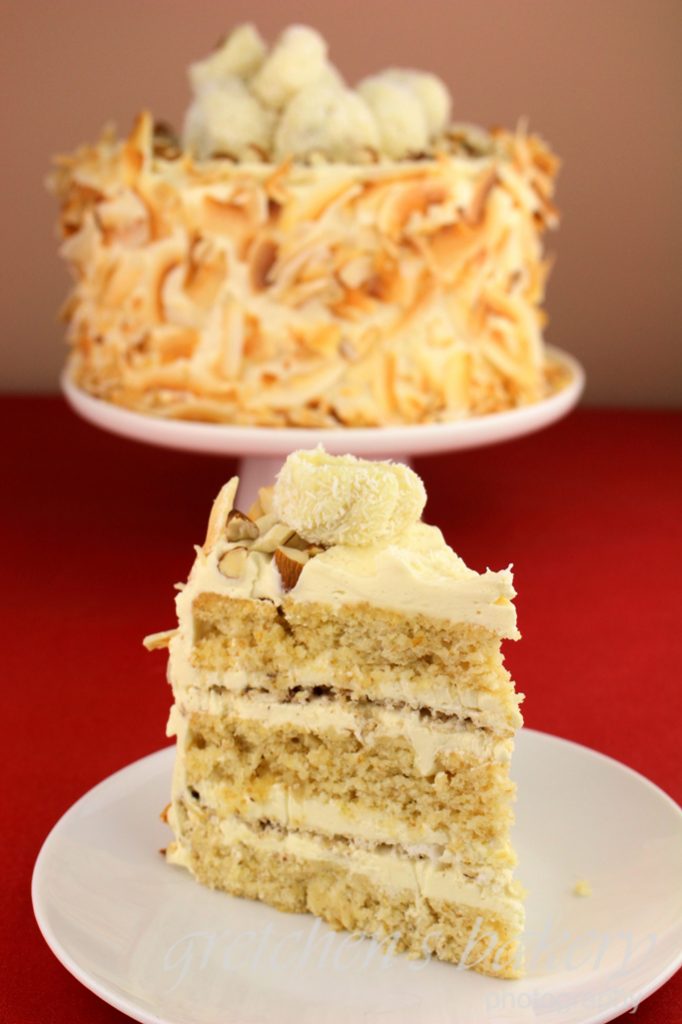 Last, but certainly not least, this Vegan Raspberry and Lemon Cake from The Loopy Whisk should be a sure-fire way of putting your newly developed skills to the test. Its layers aren't for the faint of heart, and pulling off that gorgeous pink ombre and outer lemon drip will require a skilled hand – but we're sure you'll be up to the task.
And there you have it! We hope you enjoy getting to grips with some vegan baking this month. Make sure you let us know what you get up to by sharing your bakes with us on social, at Renshaw Baking.