Probably one of the toughest challenges the bakers have ever had to face, GBBO's first ever Vegan week was a great success, inspiring us to put together our own selection of  Vegan bakes that you can try out at home.
?Make sure to enter your showstopping recipes into our  Battle Of The Bakes competition, for the chance of winning amazing prizes such as a trip to Cadbury World, tickets and an overnight stay for this year's Cake International in Birmingham, and a hamper full of Renshaw goodies.
Vegan Cupcakes

A classic but vegan style, these yummy BBC Goodfood Banana and Peanut Butter Cupcakes would make a great bake if you are looking to give your sweet treats a healthy twist. Prepping and baking in under 60 minutes, they are perfect for parties or if short for time, and make a whopping 16 cakes!
? Top Tip – For a surprise middle, before icing the top of your bake take a teaspoon and dig a small hole in the top, gently piping your icing into the centre, before continuing to ice the remaining cake. Enjoy!
Vegan Caramel Squares

An indulgent vegan friendly version of caramel shortbread, this All Recipes tray bake is super simple to make and a great overnight recipe to try. Using ingredients such as grape-seed oil and ground almonds in place of butter and flour, these tasty snacks are perfect for those of you living a vegan lifestyle or going gluten-free, using minimal and plant-based ingredients. For an extra yummy layer to your tray bake, add our vegan friendly Marzipan, before covering in chocolate.
? Top Tip – For an added fruity flavour use fruit puree in replace of oil (or butter) in equal quantities. This will also naturally sweeten your bake, reducing the need for sugar. You're welcome!
Vegan Doughnuts
Great for parties, this delicious recipe from Jamie Oliver makes up-to 24 doughnuts and is vegan! A fun bake to get all the family involved we are sure this recipe will become your go-to sweet treat. For a yummy dipping sauce, check out our vegan Simply Create Pour Over Icing available in 4 yummy flavours!
? Top Tip – Place your cooked doughnuts on a wire strainer to prevent them from absorbing any remaining oil. This will ensure they stay soft and fluffy!
Black Forest Tart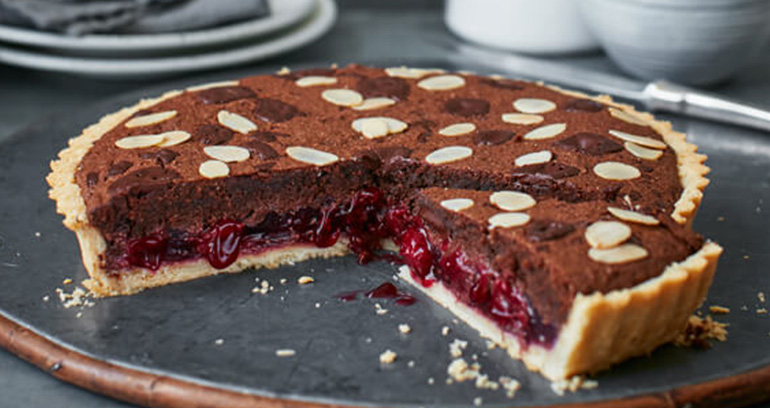 A superb bake if you are after something a little fancy, or great for afternoon tea, this Jus-Rol recipe is perfect for the beginner baker or if you are not confident making your own pastry. Not quite vegan but certainly vegetarian, this bake is the ultimate treat to satisfy a sweet tooth. Finish your bake with ice-cream or for a Vegan topping chill coconut cream overnight allowing the cream to separate from the liquid, before adding the cream to a chilled mixing bowl and whisking until thick, adding a little caster sugar to sweeten.
? Top Tip – For an egg substitute, try using mashed banana, Aquafaba (chickpea water) or even ground flax seed mixed with water in the ratio 1:3 tablespoons.
Vegan Star (Baker) Biscuits
This fun recipe from The Veg Space is 100% vegan, great for lunchboxes and uses only 6 ingredients so is perfect for the inexperienced baker. A great alternative to beloved once vegan jammy dodger, this bake is super simple to make and can be customised to your own fun shapes.
? Top Tip – For a little extra decoration, try using our Ready to Roll Icing in 28 vegan-friendly shades!
Our new Simply Create range is now available at Booths and Co-Op ?
For more inspiration, don't forget to visit our recipe and blog pages ?