Its week 9 of the GBBO, marking the semi-final of the show and patisserie week. So if you too want to take on the challenge, check out our selection of recipes perfect for a variety of occasions and skill levels.
🍰 Did you know we will be launching 4 new colours of our fabulous Ready To Roll Icing at Cake International, from the 2nd to 4th of November at the NEC Birmingham. Don't forget to get your tickets and come visit us, to get your hands on the new shades. In the meantime check out Renshaw Baking for the latest news and sneak peaks.
Custard Slices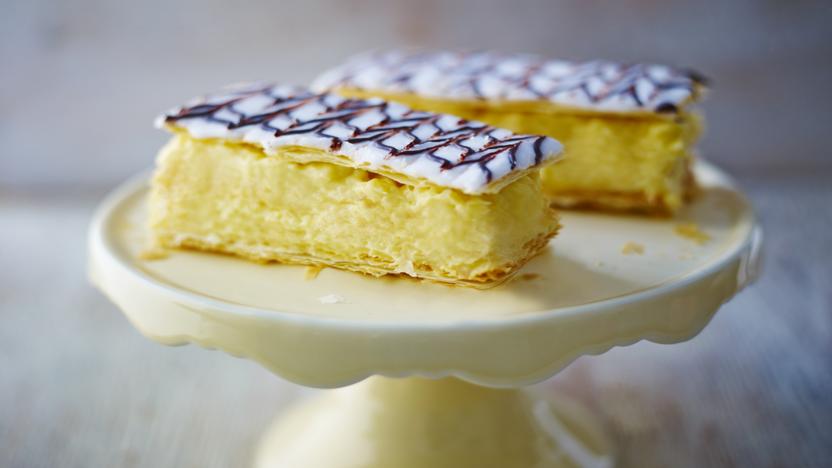 For our first recipe we recommend this fantastic one by Paul Hollywood himself, it's the ultimate companion for your afternoon tea. With a thin layer of puff pastry sandwiching a thick layer a yummy creme pat, this is the perfect treat to indulge on. For a bespoke bake add chocolate, fruit or even your favourite alcoholic beverage, a great alternative flavour to the classic.
🌟 Top Tip – Take your custard slice designs to the next level, by using our Rainbow Dust ProGel Colours in your creme pat.
Chocolate Gateau
This dark chocolate gateau recipe by Mary Berry, with 3 layers of truffle filling and and a rich ganache icing is a great bake for birthday's or family affair's serving up-to 12 people. It can even be frozen once filled so you can ice it at a later date! If you're in a hurry, don't fret, try using our ready to use Chocolate Frosting between your cake layers. You're welcome!
🌟 Top Tip- Add a small amount of salt to your cake mix, this will enhance the cocoa flavour and balance the sweetness out.
Cream Horns
A quick bake this cream horn recipe by Errens Kitchen is a fun activity to do with the kids, and great for beginners using ready made pastry. For a little something extra, stuff baby marshmallows in the top of the cream and drizzle over your favourite Simply Create Pour Over icing. Yum!
🌟 Top Tip – Spray/brush oil onto your pastry mould before cooking, to prevent the pastry from sticking and loosing its shape.
Opera Cake
A great weekend bake, this Opera cake recipe by The Spruce Eats has a whopping 7 layers! Made with an almond sponge and coffee flavoured buttercream, this cake can be enjoyed on its own or with a generous helping of vanilla ice-cream. Delicious!
🌟 Top Tip – Try out our new Simply Create version. Its ready to use in under a minute, just pop in the microwave, stir and get decorating. Much quicker than making your own!
Chocolate Eclairs
A delicious French patisserie this chocolate eclairs recipe by Taste, is definitely one for the confident baker. A great treat perfect for the whole family, this recipe makes up-to 16 eclairs, with the pastry itself being suitable for freezing for up-to 2 months, so is great for batch baking.
🌟 Top Tip – Once your Choux is cooked, poke a small hole in the bottom of the pastry to allow steam to escape and help it dry out.
Our new Simply Create range is now available at Booths and Co-Op 💫
For more inspiration, don't forget to visit our recipe and blog pages 🍰